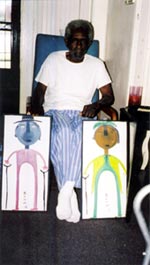 Mose Tolliver was one of American's most highly respected self-taught artists. His work has been compared to Picasso and at the Corcoran Gallery Exhibition at the Smithsonian on Black Folk Art in American 1830-1980 he was hailed as an artistic genius.

Mose was born near Pintala, Alabama, the youngest of 12 children born to sharecroppers in rural Montgomery County. He later married and raised 11 children of his own. He supported his family doing odd jobs until he was injured on the job when a large marble slab fell against him and crushed his legs in the late '60s. From that event he walked with aid of a walker. He turned his hand to art at that time. He painted with house paint on a variety of materials, although most of his work is on plywood. He attached a pull top from a soft drink can on the back of each of his paintings to hang them. One of his favourite recollections of his visit to meet The Reagans in the White House was the sight of bottles of whisky stacked "right to the ceiling in the basement".

He painted a variety of subjects from self portraits, quails, George Washington, and his own unique erotic depictions of people. His work can be found in numerous permanent collections, including The American Folk Art Museum, the Akron Art Museum in Ohio, and the Smithsonian's National Museum of American Art.

Until his death in 2006 he was the only artist alive who's work was featured in 1982 Exhibition of Black Folk Art in America 1830-1980 at the Smithsonian's Corocan Gallery. Mose passed away October 30, 2006 from complications with pnemonia.