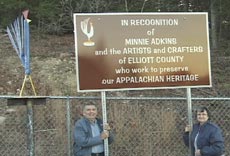 Minnie is among the best known artists in Kentucky, and her husband Garland (1928-1997) acquired reputations through their skilled carving and their generous support of budding artists in the region.

Minnie is best known for her bears (that she pronounces "B'ar") and her roosters and tigers. Garland carved horses.
In 1998 a gallery at the Kentucky Folk Art Centre in Morehead, KY was named after them. Also that year they were awarded honorary doctoral degrees from Morehead State University.

In July, 1999, Minnie married Herman Peters, who after looking at one of Minnie's small blue roosters, decided to make one out of metal. He eventually constructed two 10 foot blue metal roosters that now grace the courtyard at the Huntington Museum of Art in West Virginia and The Kentucky Folk Art Museum.